LaborLab, a unique nonprofit watchdog dedicated to safeguarding workers' rights, has released its midyear report, shedding light on companies employing anti-union "persuasion" tactics. With a focus on strategic communications and research, LaborLab plays a vital role in alerting unions, the public, and the media when employers attempt to undermine workers' right to unionize.
Anti-union "persuasion" typically involves the hiring of external consultants who engage in face-to-face meetings with workers, aiming to dissuade them from joining unions. Such tactics undermine the collective bargaining power of workers and can impede their ability to negotiate fair wages, benefits, and working conditions.
Under the Labor-Management Reporting and Disclosure Act, engaging in anti-union "persuasion" must be reported to the U.S. Department of Labor within thirty days. This reporting ensures that workers have access to crucial information about their employers' actions during a union drive. However, LaborLab's findings reveal that only 80% of anti-union "persuader" consultants comply with the law and file their reports in a timely manner. This noncompliance deprives thousands of workers of their right to be informed about their employers' anti-union activities.
In light of this concerning trend, LaborLab is actively advocating for the U.S. Department of Labor's Office of Labor Management Standards to take decisive action to improve compliance. As an organization, we believe that stronger enforcement measures and stricter penalties are necessary to safeguard workers' rights and ensure transparency during unionization efforts.
Despite widespread and illegal noncompliance, LaborLab has successfully detected and alerted workers to over 80 instances of union-busting efforts this year alone.
A comprehensive review conducted by LaborLab reveals that, as of June 19, 2023, 87 companies across 27 states have hired anti-union "persuaders." The distribution of these companies is as follows:
California (CA): 16
Illinois (IL): 11
Pennsylvania (PA): 9
New York (NY): 8
Texas (TX): 8
Washington (WA): 5
Arizona (AZ): 4
Georgia (GA): 4
Michigan (MI): 5
Maryland (MD): 3
Minnesota (MN): 2
Indiana (IN): 3
Tennessee (TN): 3
Massachusetts (MA): 3
Ohio (OH): 1
Kentucky (KY): 2
Oklahoma (OK): 3
New Hampshire (NH): 2
North Carolina (NC): 2
Oregon (OR): 2
Colorado (CO): 1
Alabama (AL): 1
Connecticut (CT): 1
District of Columbia (DC): 1
Louisiana (LA): 1
Nevada (NV): 1
Wisconsin (WI): 1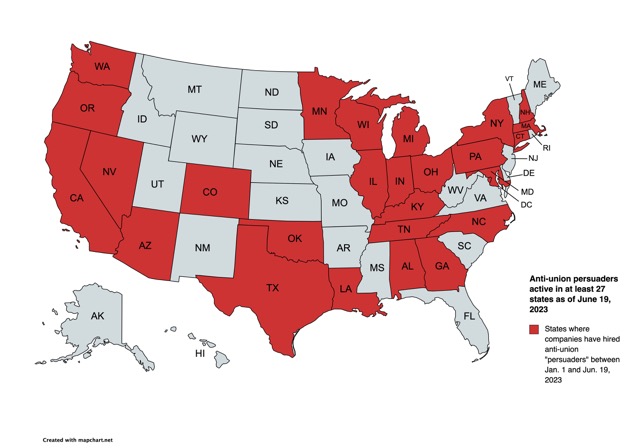 Anti-union "persuader" consultants profit significantly from their activities, earning thousands of dollars for just a single day's work. In 2022, the industry brought in tens of millions of dollars. Research clearly indicates that these consultants exert a major influence on the success or failure of unionization efforts, further underscoring the urgency of addressing this issue.
LaborLab is actively working to combat the violations of workers' rights and has launched a petition condemning the use of anti-union "persuasion" and employer opposition to the right to unionize.
The list of companies identified by LaborLab as engaging in anti-union persuasion during the first half of 2023 includes:
ABC Plumbing – Arlington Heights, IL
ACM Global Laboratories – Rochester, NY
Aegis Living Ravenna – Bellevue, WA
AFP Management Corp. – Great Neck, NY
Allied Waste – Phoenix, AZ
Allina Health – Minneapolis, MN
Arcosa Inc. – Dallas, TX
Asante Rogue Regional Medical Center – Medford, OR
Aspire Bakeries – Ontario, CA
Atlantic American Fire Protection Company, Inc. – Elgin, IL
Bauman Crane Company, Inc – Chalfont, PA
Behavorial Health & Dev Serv of Strafford Cty Inc – Dover, NH
Benchmark Electronics – TEMPE, AZ
Blox, LLC – Birmingham, AL
Bluegrass Restaurant Holdings – Louisville, KY
Bob Evans Farms, Inc – New Albany, OH
Braeburn Alloy Steel, LLC – New Kingston, PA
Breakthru Beverage California, LLC – Cicero, IL
Buckman Laboratories, Inc. – Memphis, TN
California Pacific Medical Center – San Francisco, CA
Caney Fork Electric Cooperative – McMinnville, TN
Capstone Logistics, LLC – Peachtree Corners, GA
Carrier – Indianapolis, IN
CenterPoint Energy Service Company – Houston, TX
Centura Health – Centennial, CO
Coca Cola Southwest Beverage – Dallas, TX
Community Integrated Services – Philadelphipa, PA
Desert View Wellness & Healing Solutions – Glendale, AZ
ECLR/Restore Integrated Wellness – Elkins Park, PA
Ecovyst- Eco Services Operations – Houston, TX
El Milagro – Chicago, IL
FCC Environmental Services – Spring, TX
Fields Ash – Asheville, NC
Findhelp – Austin, TX
Fortune International – Bensenville, IL
GFL Enviromental – Northville, MI
Gold Star Foods, Inc. – Huntingdon, PA
Goldstar – Huntington, CA
Green Waist – San Jose, CA
Grocery Delivery E-Services USA Inc – New York, NY
GrowOp Farms – Spokane, WA
Hearn Industrial Solutions – Taylor, MI
Hello Fresh – New York, NY
Hyatt Centric French Quarter – New Orleans, LA
Intercontinental – Washington, DC
Jackson Lewis PC/Massachusetts General B.righam In – Baltimore, MD
Johansen Construction Company, LLC – Sumner, WA
Johns Hopkins Hospital – Baltimore, MD
KAG Merchant Gas GroupP LLC – Indianapolis, IN
La Maestra Community Health Centers – San Diego, CA
Loma Linda University Healthcare – Loma Linda, CA
LRI – Broken Arrow, OK
LRS Portables LLC – Rosemont, IL
Mauser Packaging Solutions – Chicago, IL
Merit Aluminum Foundry – Adelanto, CA
Metro-Wall – Congers, NY
Milk Specialties Company – Eden Prairie, MN
Newport Meat Company – Irvine, CA
NRT Bus – Hudson, MA
One Gas – Tulsa, OK
Pedernales Electric Cooperative, Inc. – Johnson City, TX
Performance Food Group – Gilroy, CA
PetVet Care Centers, Inc. – Westport, CT
PPG Industries – Pittsburgh, PA
Resorts World Las Vegas – Las Vegas, NV
Restore Integrated Wellness – Elkins Park, PA
Rogers Behavioral Health – Oconomowoc, WI
Rowell Chemical Corporation – Hinsdale, IL
RXO Inc. – Charlotte, NC
SAGE Services – Camarillo, CA
Schuld Bushnell – Bushnell, IL
Seasons 4 Inc – Douglasville, GA
Southwest Key – El Paso, TX
The TAG Group – Walnut Creek, CA
Tilt Holdings – Cambridge, MA
Topiderm, Inc. – Amityville, NY
U.S. Venture Inc. – San Bernardino, CA
United Parcel Service – Forest Park, GA
Universal Intermodal Services, Inc. – Warren, MI
UPS Worldport – Louisville, KY
US Venture Inc – San Bernardino, CA
Verano Cannabis – Chicago, IL
Washington Center for the Performing Arts – Olympia, WA
Webasto Convertibles USA Inc – Plymouth, MI
White Plains Hospital – White Plains, NY
WIN Waste Innovations Holdings Inc – Portsmouth, NH
Yecuris – Tualatin, OR
View our interactive map of companies engaging in anti-union "persuasion"
The list encompasses 87 companies across the United States, reflecting the widespread issue of anti-union "persuasion" tactics. LaborLab's work is crucial in shining a light on these practices and empowering workers to make informed decisions about their rights. By exposing companies engaging in anti-union tactics, our organization aims to strengthen the labor movement and foster fair and equitable working conditions.
To support LaborLab's efforts and join the fight for workers' rights, individuals are encouraged to sign our petition opposing companies that hire anti-union persuaders. By adding your voice, you can contribute to the collective push for increased compliance and a more transparent landscape during unionization processes.
LaborLab's midyear report serves as a call to action for both the public and policymakers. It is a reminder that workers' rights are fundamental and must be protected. With continued vigilance, awareness, and advocacy, organizations like LaborLab can play a pivotal role in ensuring a fair and just working environment for all employees.